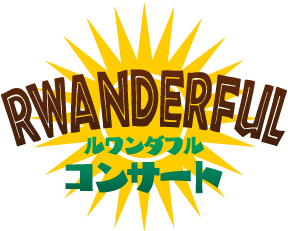 Rwandan Music & Dance for Peace
Swinging African Music and Dance
@@@@And Dialogue for Peaceful Future
A musician and a dance team from Rwanda Africa who make the world their stage will perform together with Mr.Takashi Okita, Hiroshima's leading violist. Through a dialogue about getting over the tragedy of Hiroshima and Rwanda and through sympathy of music, they will steadily walk for a peaceful future.
Mr.Jean Paul Samputu, a musician from Rwanda, has experienced a tragedy that his family was slaughtered during the Rwandan Genocide in 1994. Now, he is overcoming the pain, and is developing peace activities with music around the world. There should be something in common between Mr.Samputu and the people in Hiroshima who are appealing the misery of war and continuing activities for the world's peace after the tragic experience of the atomic bomb.
In ' Rwanderful Concert@Hiroshima', the people from Hiroshima and Rwanda will share the strong wish for a peaceful future by enjoying a wonderful performance and a dialogue.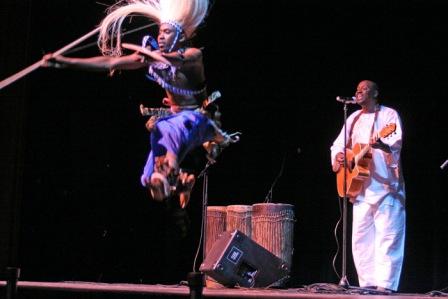 yEventz
¡July 11th (Sun)@@@Curtain 2:00pm (open 1:30pm)
¡The Chugoku Shimbun Hall
@i7th floor of the Chugoku Shimbun Buildingj
@7-1, Dobashi-cho, Naka-ku, Hiroshima City
@Streetcar: Get off at Honkawa-cho,
@@@then proceed south about 10 minutes on foot
¡Entrance Fee
@General@\2500(Advanced Ticket \2000)
@Up to Junior High-school@\2000(Advanced Ticket \1500)
¡HostFNGO Peacebuilders
¡Co-HostFNGO Think About Education in Rwanda
¡SponsorshipFHiroshima Prefecture, Hiroshima City,
@The Board of Education of Hiroshima City,
@The Chugoku Shimbun and
@The Embassy of the Republic of Rwanda in Japan
yTicketz i1-20, Komachi, Naka-ku, Hiroshiamj
TEL: 082-247-0645
¦In case of mail order or telephone order, we ask for the advance payment. When we conform your payment, we will send you the ticket. So please tell us your address.
Please understand, we ask for \300 for shipping.
@@@yCastz
Jean Paul Samputu
@@iMusical performancej
INGERI iDancej
Takashi OkitaiViolaj
Kambenga Marie LouiseiTalkj
@@@yProgramz
œOpening: Muraho(Hello) ! Rwanda
Welcome message from Mr.Okita (viola performance)
œDialogue between Hiroshima and Rwanda:
'For a peaceful future-from the experiences of Hiroshima and Rwanda'
iPanelistsj
Mr.Samputu, Ms.Marie Louise, A-bomb victims in Hiroshima and the NGO Peacebuilder's staff
iContentj
Mr.Samputu and Ms.Marie Louise will talk about the Rwandan Genocide; meanwhile A-bomb victims will talk about the tragedy of Hiroshima. After learning from them, a dialogue for a peaceful future will take place.
œMusic and Dance Concert
About 10 music. Enjoy the powerful beats!!
œWorkshop of Music/Dance/Song
Join the interactions between the stage and the audience seats by learning how to play the musical instruments and how to dance. Let's learn a song and sing together in the finale.
œFinale:Collaboration of Everyone
Let's sing and dance with the performance of Mr.Samputu, Mr.Okita and INGERI. Let the music flow in your body and feel the peaceful moment together.
ƒSamputu with the dance team 'INGERI'@iYou Tubej"
Please watch the related performances after you watch this.
'Rwanderful concert' is very unique, because NPOs from all over Japan collaborate on this project.
ƒConcert information in Japan"
Since each NPO is different, every concert is different from others. In Hiroshima, NGO Peacebuilders is organizing this concert.
–@–@–
We ask for your kind understanding and support!
We welcome the company or indivitual volunteer for this concert.
More information, pleace contact Peacebuilders:Mr.Hirano@
hirano@peacebuilders.jp