To familiarize and people to become interested in peacebuilding, PB conducts various international exchange projects.
2006 Activities
2006 Hiroshima International Peace Summit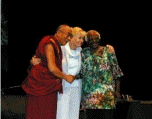 Inviting three Nobel laureates - His Holiness the XIVth Dalai Lama, Archbishop Desmond Tutu, and Mrs. Betty Williams - summit was held on November 1 and 2 in Hiroshima, and PB acted as one of the managing committees and co-organized the summit. PB was one of the organizations responsible for inviting Archbishop Tutu to the summit, and thus assisted his stay in Japan.
A project to invite the H.E. Dr. Emile Rwamasirabo to Hiroshima
(Co-Organizer: UNITAR-HOAP, HYN)
April 7 is the International Day of Reflection on the genocide in Rwanda. On this special day for people of Rwanda, this project was made possible by strong interests from H.E. Dr. Emile Rwamasirabo to visit Hiroshima.
Background
April 7 is the date that cannot be forgotten for people from Rwanda. Since a civil war erupted on April 7, 1994, more than one million people were said to be killed in one hundred days. Twelve years have passed since then, but many Rwandans cannot forget about April 7, which is very similar to August 6 for people in Hiroshima. PB believes that talking and thinking about peace with people from Rwanda on the International day of Reflection on the genocide in Rwanda in a city of Hiroshima ? where a ĀgmassacreĀh also took place ? would be meaningful for people in Hiroshima.
On January 6, 2006, PB organized a symposium titled ĀgWhat is happening in Africa today? A message from Hotel RwandaĀh and an advanced screening of Hotel Rwanda in Yurakucho Asahi Hall in Tokyo. PB invited Mr. Paul Rusesabagina, whose story was the basis of the Academy Award nominated film Hotel Rwanda, and organized a discussion seminar with Japanese experts on issues of peacebuilding and African studies to draw public attention to Rwanda and Africa in general. The symposium was a success with more than 580 participants. The Embassy of Rwanda to Japan also made a critical comments toward a statement made by Mr. Rusesabagina.
PB, therefore, wanted to invite Ambassador Rwamasirabo as a representative of the Rwandan Government to talk about how people in Rwanda today are engaged in peacebuilding, and its challenges ahead. At the same time, this opportunity would be a wonderful opportunity for people in Hiroshima to be exposed to issues in Africa.
Biography of H.E. Dr. Emile Rwamasirabo
Born in Butare, Rwanda, in March 1951. After receiving the Doctor of Medicine from Dakar University in Senegal, studied at Lile University in France. After serving at the Lille Cancer Center, Mulago teaching Hospital in Uganda, and Kigali Hospital Centre in Rwanda, became the Rector of the National University of Rwanda in 1998. Appointed as the Ambassador of the Republic of Rwanda to Japan in June 2004. Ambassador Rwamasirabo likes to talk to people and making visits to places where he can exchange opinions since his appointment as the ambassador.
Schedule

April 6, 2006
| | |
| --- | --- |
| 12:50 | Laid flowers at the Cenotaph in the Peace Memorial Park |
| 13:10 | A visit to the Hiroshima Peace Memorial Museum |
| 14:30 | Meeting with Mr. Sunao Tsuboi (Leader, Hiroshima Prefectural Confederation of A-bomb Sufferers) |
| 17:00 | Presented a lecture at the roundtable session organized by the United Nations Institute for Training and Research Hiroshima Office for Asia and the Pacific (UNITAR-HOAP). |
April 7, 2006
| | |
| --- | --- |
| 10:00 | A visit to Dr. Tadatoshi Akiba (Hiroshima Mayor) |
| 13:00 | A session with Hiroshima Youth Network (HYN) |
| NOTE: | This project was co-organized by PB and UNITAR-HOAP, and made possible with cooperation from HYN. |



International Exchanges between Hiroshima and Mostar
through the World Heritage


Both the A-Bomb Dome and the Old Bridge in Mostar are good examples which ruins of the conflict became symbol of the city and later the UNESCO World Heritage sites. PB facilitated a series of international exchanges between students from the Hiroshima University and students from Mostar on issues such as peace, conflict, and daily life.