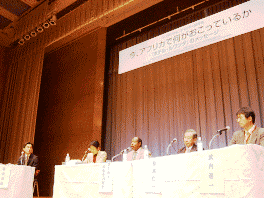 @
Q: Question
M: Mr. Matsumoto
T: Mr. Takeuchi
R: Mr. Rusesabagina
Q: What is happening in Africa?
M: For next 100 years, issues related to ethnic groups and tribes will probably be the biggest problem in Africa. Different ethnic groups such as Hutu and Tutsi are trapped inside the man-made borders known as a state, and their differences are utilized by the leaders. These leader blame civilians for being suffered and avoid responsibility whenever policy mistakes or corruptions happens. What we can do is to let them recognize that there are values above the tribe-level. In Africa, forming nationalism never took place, thus a confrontation between gweh and gother.h
Q: How is Rwanda after 12 years after the genocide?
T: Whenever I say hI went to Rwandah to people, they say ewere you alright?f These days, Rwanda has been a safe place, especially for foreigners. In 2003, Mr. Kagame won the election by receiving more that 95% of the votes casted, but it is said that his government is becoming autocratic. The system, which is under the control of RPF ruled by Tutsi, has not changed since 1994. We can say that having a Hutu president is a symbol of the reconciliation. But mentioning about crimes by RPF is still a taboo Although members of RPF also committed war crimes during the genocide. It is such a huge obstacle for the national reconciliation.
R: There are many serious problems among ethnic groups. For example, Tutsi can bury their relativesf dead bodies properly from mass graves while Hutu cannot. In Rwanda, there are about 100,000 prisoners and 200 courts, but only 6000 of them were judged after 11 years. Unfortunately, criminal justice system in Rwanda is not functioning properly. So much money was spent for the International Court of Justice, but only 25 prisoners were judged, according to the prosecutors. And, if I comment on this point, I can be easily criticized as a person with genocide ideology. As for Gacaca, it is not a system of justice. People who gjudgeh the crimes during the genocide are people who even cannot read or write. I donft believe that this system is appropriate. I personally believe it is a system that cannot deliver justice to the victims. What we need in Rwanda is dialogue between two ethnic groups. Under colonial administration, it was Tutsi who ruled, but this changed with the revolution, and now we are back to Tutsi rule once again. Only hope, I believe, for Rwanda and Africa is to abide by the Arusha Peace Agreement.
Q: What can we do in Japan?
M: ODA is certainly one channel, however. Rwandan government cannot probably keep the country under the control. There are many Japanese NGOs in Rwanda working with people suffering. When the country is not together, it is better to support civilians directly through UNHCR, UNICEF, and UNDP.
T: It is normal for a person to think what he/she can do after watching a movie like this. The most important thing, I believe, is to know more about Africa. We, Japanese, have too many negative images about Africa. We should try to know more about people who are living there.
R: Japanese government is offering gracious financial support to Rwanda, however, the dictators spend these money money on weapons to protect themselves. In that sense, supporting Rwandan though NGOs, I believe, is much efficient. Africa needs assistance toward civilian and also to fight against dictators. In the past, people fought against Apartheid, and it got abolished. A message from the movie which I would like to emphasize is this point. If you desire, each one of us can make a difference.
Development of the Contents of the Peacebuilding Seminar
Supported by JICA, PB developed contents of the peacebuilding seminar targeting trainees from Post Conflict societies.
(300 pages in both Japanese and English each with an audiovisual material lasting 20 mins)
Outline of the Contents