TOHOKU EARTHQUAKE /TSUNAMI DISASTER
After completing jobs in North Ibaragi district, two of our staff joined to the team in Sendai, Miyagi pref. to further reinforce PB's field operations in the places of disaster.
PB team jointly with added supports from Relief International now conducts a series of site visits to evacuation shelters and meetings with the local councils for social welfare plus those local NGOs active in the area. Their reports say that the city of Sendai itself suffered disaster of earthquake leaving still many a number of people under state of displacement.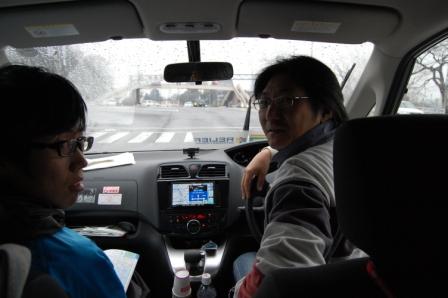 In Sendai, nevertheless, their local administration offices sustains proper services to population supported with the rescue operations by Self Defense Forces(SDF Rescue), thus exerts as the pivotal centre of logistic supply and information which secures active participation by various local stakeholders.
On the other hand, in the tsunami affected areas in Miyagi pref. SDF Rescue and the local Fire fighting teams are exercising strenuous efforts for restoration while many people who dwelled therein are still searching out their loved ones and memories of their sweet homes. PB found that there are some areas restricting only those who lived for entry therein and out.
As could be viewed in media reports, the coastal areas of Miyagi pref. have been so badly damaged by tsunami, PB team again was reminded of this undeniable truth of this devastating natural disaster after witnessing few remains of a nurse home and crosswalk all were in existence before the day March 11, 2011.
Just imagine how this mere fact can be a path to our brand new days to come
In Sendai, PB team affirmed in the above meetings that
Ā\ substantial inflow of support materials/necessities into some areas now taking place_
Ā\ however, there are several focal areas where people yet faces severe lack of supplies due to bottlenecked logistic network as they are lodging in their respective houses being free form damages and most importantly they are left without shelters
As often pointed out by professionals, imbalanced renderings of services and assistances are closely related to how stakeholders and concerned parties handle and provide required information.
PB now urge that a proper channel and network in relevance to information be installed as quick as possible so that no people and area are left isolated from sustained, well managed information.
PB is well aware that most of local administration offices and NGO/NPO are now organizing sort of nationwide network of volunteers that will for sure function for providing services and assistances by volunteers
To our Volunteers,
PB wish to thank you for your most sympathetic supports and brave decision to be part. And most importantly wish to solicit your little more good patience as The Time Will soon Come!!
Donations
Helping PB's operation, you will kindly post your donation to the following account:
Account name: Peacebuilders
SWIFT/BIC code:HIROJPJT
Brunch Number: Head Office (001)
Account Number/IBAN:1-3556132
Bank name:Hiroshima Bank LTD.
Address:3-8, Kamiya-cho 1-chome, Naka-ku, Hiroshima 730-0031, Japan