TOHOKU EARTHQUAKE /TSUNAMI DISASTER
- A lively report from Fukushima!-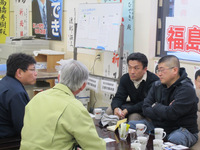 As reported earlier, Our Chairperson and Director general together with added staff members touched down to the frontline in Fukushima pref.. Let us expect this team further strengthen our entire operations as they would truly exert their professional expertise gained through rich experiences in national rebuilding programs in overseas.
On the day 1(first day), they conferred with those members of the prefectural and city council on the agenda how should the future assistance be after joining PB's staff members who have long been in the place.
According to them and other local people already in action, ie, they made special statement appealing that the work for assisting people have been such extremely difficult as they even today face substantial damages by so called harmful rumors generated by the radiation issue which poses restriction of absolute keep off within the area where tsunami washed.
They went on to stress for attention of the whole population in Japan by expressing their frank feeling with great regrets and sorrows that it was people of Fukushima who suffered most immeasurably despite the fact the nuclear power plant have been installed thereon not obviously for Tohoku Electric Power Company for the people of this prefecture, but for Tokyo Electric Power Company for the people of Tokyo.
Above all, we must all know that the harmful rumors are causing tremendous damages like for instance
-farmers lost their means of livelihood due to severely restricted marketing
-coastal fishing industries and fishermen ,similarly, are left under most critical situations as they lost opportunities for income earning due to devastating damages
-there certainly is a kind of dilemma among people here viz, they are desirous of free from the power plant, contrary to which they feel that they might really loose everything if they run from this fact.
-day by day there have been an increase in number of people returning back to their residences from evacuation centres even under the foggy/ambiguous policy of the government.
- Minami Souma city, thus, needs urgent assistances as the city is such a typical/symbolic case of this disaster.
Indeed, Peacebuildrs standing right in the frontline do share an equal sympathy to those who suffered but still ought to keep on surviving under such difficulties with their acute hope for lasting living in hometown, that is to say, thoughts on never loosing hometown.
In fact, we found that in Fukushima despite its proximity to Kantou district among Tohoku prefectures, there exist shortage in number of volunteers which is causing very serious shortage in workforces needed for recovery.
Knowing this, Peacebuilders today sent out three volunteers from our base, Hiroshima who joined to this important operation thru our blog network only a few days ago. They are for now scheduled to work there about a week.
Peacebuilders will deploy additional group of volunteer while closely and cautiously watching the changing status-quo in the frontlines!!
You will please stay tuned for our next live report!
Donations
Helping PB's operation, you will kindly post your donation to the following account:
Account name: Peacebuilders
SWIFT/BIC code:HIROJPJT
Brunch Number: Head Office (001)
Account Number/IBAN:1-3556132
Bank name:Hiroshima Bank LTD.
Address:3-8, Kamiya-cho 1-chome, Naka-ku, Hiroshima 730-0031, Japan