TOHOKU EARTHQUAKE /TSUNAMI DISASTER
Peacebuilders to deploy Top management persons to the frontline as from April 4 2011
Just only recently, the traffic in some area of Kamaishi city, one of the hardest hits in Iwate pref. has become possible as the operation of cleaning debris has been underway. During recent days, Peacebuilders carried out activities in those hardest hit cities such as Miyako, Kuji, Nodamura, Morioka and Kesennuma.
Our staff found that most of local administration offices are just crowded with visitors seeking issued obituary, relocation notice and certificate of affliction as their current handling and daily service capability has been significantly lowered due to severe damages by the disaster.
Administrators, (city or town offices) in those places announced some rules and ordinances in respect to cleaning and dismantling of debris requiring that:
-for those houses, buildings and debris moved onto public roads, administration will be charged for demolishing and removal.
-for those debris moved and remain in privately owned areas, city/town offices shall be responsible for removal/cleaning, but individuals can optionally remove/clean them if so wished.
-as for dismantling and removal of collapsed houses, individuals shall be responsible as a rule.
Under the present circumstances, however, demolishing and removal works appear extremely difficult and even time consuming challenge because of severe shortage of earth moving equipment and disposal areas therein.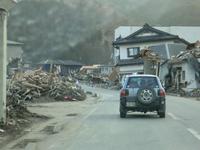 PB staff at the same time witnessed that people are exerting every possible efforts for recovery despite they are all busy with day to day work.
Tough there is in reality some slightest differences area-wise, we found some growing diversifications in needs among people consequent on the prolonged evacuation which eventually calls for, so to speak, soft powered/oriented approach in the design and implementation of assistance.
Peacebuilders further witnessed that in general, there have been some progress in recovery in the inland areas whilst in the coastal areas, an extensive search operation for those missing was still in place.
As from 4th April, PB will install another group of people, comprising MrK Isezaki, our Chairperson and Dr H. Shinoda, Director General in order to further reinforce our entire activities in Tohoku frontlines.
PB firmly believe that their professional experiences and expertise gained from various international services in conflict resolution and peacebuilding dimensions may well serve the objectives, that is to say, challenges for the disaster recovery.
Peacebuilders will soon design and work out specific long term recovery plan.
Please do stay tuned for our next live reportĀI
Donations
Helping PB's operation, you will kindly post your donation to the following account:
Account name: Peacebuilders
SWIFT/BIC code:HIROJPJT
Brunch Number: Head Office (001)
Account Number/IBAN:1-3556132
Bank name:Hiroshima Bank LTD.
Address:3-8, Kamiya-cho 1-chome, Naka-ku, Hiroshima 730-0031, Japan