TOHOKU EARTHQUAKE /TSUNAMI DISASTER
Peacebuilders, following the earlier activities in Sendai city, stretched our foots to Ishinomaki city, one of the hardest-hits in Miyagi pref. on 31st March. The team witnessed a scene in the municipal office of the city gently providing those evacuees with some floor space therein as shelter.
The city itself has been flooded with sea water during the disaster, and the nasty smell of sea sludge still remain there. Exterior a shopping arcade, there are untouched glass pieces, hanged ceiling ornaments and a lot of debris.
After viewing such heart hurting scenes, PB support team was able to meet the various local stakeholders in the city of Ishinomaki helping victims and evacuees, like those from the disaster volunteer centre, social welfare council, local NPO association in order to collect real vivid stories, talks of the town and information in relevance.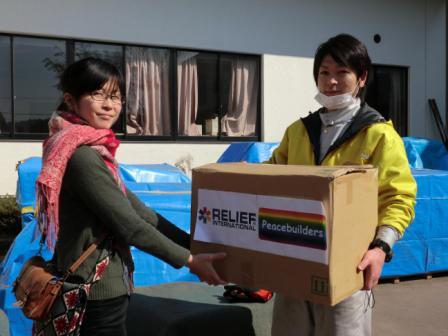 PB staff Ms Imamura hands out needful aid goods just in accordance with what is really required by those in need of necessities.
One notable issue is that the city municipal office is encouraging more evacuees for their return back to their respective homes while promoting concentrating shelters.
However, this attempt now faces extreme difficulty since many evacuees got their houses under total/entire loss. Given the time has passed by, already 3weeks after the day, there comes issues on complains and dissatisfaction by the evacuees generated from gap/difference in respect to the services and treatment for their quality of life rendered in the respective shelters particularly in Ishinomaki having a large number of sheltrs. On hearing this, PB team recognized that this is attributable to a mere fact that uneven distribution of relief assistance is closely linked with uneven collection and distribution of information.
In fact, the stakeholders in Ishinomaki, Āilet us name them as "Team Ishinomaki"in this bulletinĀj already started utilizing a kind of community based FM-frequency modulation-broadcasting network that has been encouraging shared and integrated information among evacuees in shelters, populations in their houses and other participants/stakeholders as well as local administration offices. Nevertheless, people in Ishinomaki in particular, those who are in isolated locations or in urgent need of assistances will face some constraints in this information services as the most services are currently provided by the local administration.
Our PB staff in their meetings and extensive hearings therein shared common view with counterparts in Ishinomaki that there would be substantial needs for NPOs who must be able to play initiated role in filling gaps or in paving a path for better livelihood of people suffered enough.
Also, there has been an imminent shift in demand by the evacuees from bare bottom requirement for foods supplies and living to desired ones as used to be at the time before the disaster which will eventually calls for improvement in variety and quality. To this, we all must respond quickly. Our team learned that the situation there will not allow us to waste time for designing future programs of assistances.
Thus, every and each practitioners on the spot, regardless of their positions, people in the public offices, NPOs, volunteers and people suffering, are exerting all out efforts for the better tomorrow!!
Please stay tuned for more report from our frontline.
Donations
Helping PB's operation, you will kindly post your donation to the following account:
Account name: Peacebuilders
SWIFT/BIC code:HIROJPJT
Brunch Number: Head Office (001)
Account Number/IBAN:1-3556132
Bank name:Hiroshima Bank LTD.
Address:3-8, Kamiya-cho 1-chome, Naka-ku, Hiroshima 730-0031, Japan